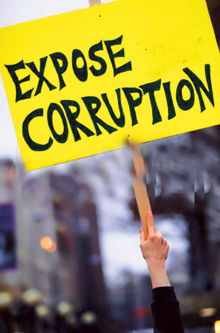 With continuing allegations of graft and corruption swirling around the Immigration Department following the shock resignation of Mary Anne Thomspon and through the inept attempts at cover-ups that her ministers have tried, Clark is now forced to call for an independent inquiry and has appointed Kevin Brady the Auditor-General.
Clark will have wanted this like she wants cancer. Not only that she has been forced to allow Brady a free hand to set terms of reference, order documents to be produced and question people under oath.
There will be several ministers squirming right about now not the least of which will be legend in his own mind David Cun(t)liffe.
Kevin Brady will move quickly and the evidence he will uncover may well lead to an early election if my sources are correct as to what he may find.
Is Mary Anne Thompson and Immigration the Labour version of WINZ and Christine Rankin, a stick to beat the government with all the way to the election.
The odds on an early election just improved.
As much at home writing editorials as being the subject of them, Cam has won awards, including the Canon Media Award for his work on the Len Brown/Bevan Chuang story. When he's not creating the news, he tends to be in it, with protagonists using the courts, media and social media to deliver financial as well as death threats.
They say that news is something that someone, somewhere, wants kept quiet. Cam Slater doesn't do quiet and, as a result, he is a polarising, controversial but highly effective journalist who takes no prisoners.
He is fearless in his pursuit of a story.
Love him or loathe him, you can't ignore him.
To read Cam's previous articles click on his name in blue.