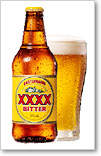 At a ?national conference of the Australian Hotels Association, ?the general managers of Cascade Brewery (Tasmania), Tooheys (New South Wales), XXXX (Queensland), CUB (Victoria) and Coopers (South ?Australia) found themselves sitting at ?the same table for ?lunch.
When the ?waitress asked what they wanted to drink, the GM of ?Tooheys said without hesitation, "I'll have a Tooheys ?New."
The ?head of Carlton & United smiled and said, ?Make mine a ?VB."
To which ?the boss of Coopers rejoined, "I'll have a Coopers, the King ?of Beers."
And ?the bloke from Cascade asked for "a Cascade, the cleanest ?draught on ?the planet."
The General ?Manager of XXXX paused a moment and then placed his order: ??"I'll have a Diet ?Coke."
The ?others looked at him as if he had sprouted a new ?head.
"Well,? ?he said with a shrug, ?if you poofters aren't drinking beer, ?then neither will ?I."
As much at home writing editorials as being the subject of them, Cam has won awards, including the Canon Media Award for his work on the Len Brown/Bevan Chuang story. When he's not creating the news, he tends to be in it, with protagonists using the courts, media and social media to deliver financial as well as death threats.
They say that news is something that someone, somewhere, wants kept quiet. Cam Slater doesn't do quiet and, as a result, he is a polarising, controversial but highly effective journalist who takes no prisoners.
He is fearless in his pursuit of a story.
Love him or loathe him, you can't ignore him.
To read Cam's previous articles click on his name in blue.