Third wave feminists love to protest naked or half naked, often with slogans written all over their body. They even did it during the infamous woman's march. When actress Emma Watson did a photo shoot that showed some cleavage, however, some feminists turned feral. This is despite Emma Watson being a feminist activist who in 2014 was appointed as a UN Women Goodwill Ambassador and the fact that she helped launch the UN Women campaign HeForShe, which calls for men to advocate gender equality.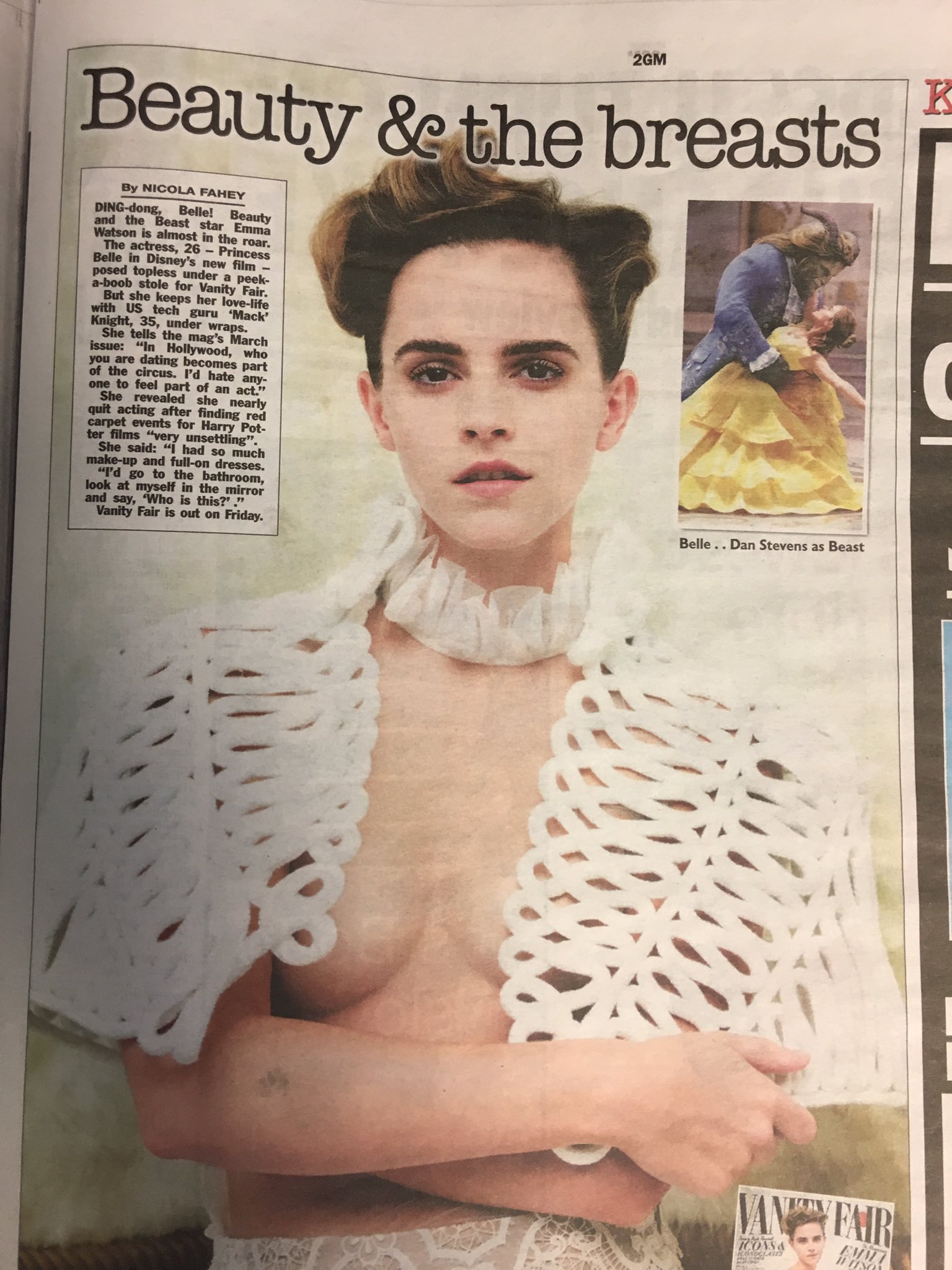 Instead, the she-beasts got their tits in a tangle and accused Emma of showing her cleavage in a fashion shoot because of the patriarchy.
The feminist theory is that Watson's partial nudity indicates that she caved in to male chauvinism, even though feminists lately have been waging a "Free the Nipple" campaign, strutting half-naked in Slut Walks, and marching in protests dressed up as vaginas. It also suggests that she is profiting from "western beauty standards" that keep her sisters from being rich and famous as well.
Emma was criticised by Radio presenter, journalist and commentator Julia Hartley-Brewer who somehow missed the irony of disparaging Emma for showing part of her breasts when Julia has given her viewers plenty to look at herself.
Watson, 26, was accused of being?a ?bad feminist? after she posed in an open crochet top…

The actress…was called out by some for being ?hypocritical? for identifying as a feminist, but choosing to strip off.Julia Hartley-Brewer…accused Watson of using her breasts to ?boost? her career and described the actress as ?hypocritical and silly?.

Giles Coren accused Watson of giving the human race a ?bad name?…

…Others jumped to Watson?s defence with one user tweeting: ?Feminism is about giving women FREE CHOICE. They can cover up or expose their bodies as they want.?

Another posted: ?I don't always agree with her, but does exposing a body part really contradict feminist points??
All this outrage shows is that Third wave feminism isn't about the important stuff. They would rather waste time and energy attacking one of their own than try to solve real feminist issues like the female genital mutilation epidemic in Britain.
If you agree with me that's nice, but what I really want to achieve is to make you question the status quo, look between the lines and do your own research. Do not be a passive observer in this game we call life.
You can follow me on Gab.ai 
To read my previous articles click on my name in blue.