At a rally this week, coinciding with a commemoration of the 1915 Gallipoli campaign ? when Ottoman soldiers defeated British-led forces, including those from Australia and New Zealand ? Turkish President Erdogan warned those coming to Turkey with anti-Muslim sentiments: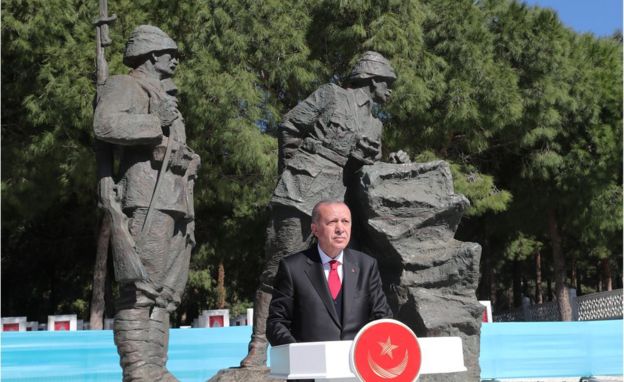 That prompted Australia's prime minister to summon the Turkish ambassador and review travel advice to Australians travelling there.
But what do we do? Ardern sends our favourite uncle Winston to smooth the waters to tell the Turkish despot to chill for a bit, so we can all be happy and diverse again.
Unfortunately, she has forgotten to let us know. We have a safe travel advisory service run by the government. It can be found at safetravel.govt.nz
Since there has been a direct threat made against New Zealanders, by none other than the leader of Turkey, how can it be that the safetravel listing for Turkey hasn't been updated since Nov 28th, 2018, some four months ago?
Surely not everyone in our government can be tied up dealing with kneejerk reactions and virtue signalling?
However, I urge you to check out the listing for Turkey above. There is some pretty good info on there, just in case you didn't know what was happening over in that part of the world. quote.
Although it does give some strong warnings that Turkey is not that safe, it is a shame it doesn't seem to mention that it is the actual Turkish government now threatening us.
It does, however, list all these attacks, which obviously are in no way connected with mental health as we have been assured by Chief Gunt Davidson. quote.
Istanbul and Ankara
Past attacks in Istanbul and Ankara have included:


– On 1 January 2017, a shooting attack at the Reina nightclub in central Istanbul killed 39 people, including foreign nationals, and injured at least 70 others.
– On 19 December 2016, the Russian ambassador to Turkey was assassinated at a reception held in a municipal art gallery in Ankara.
– On 10 December 2016, a number of explosions near Besiktas Stadium in Istanbul killed 44 people and injured many more.
– On 28 June 2016, an armed attack and series of suicide bombings occurred at Istanbul?s Atat?rk International Airport. At least 45 people were killed, including many civilians and foreign nationals.


Although Turkish authorities have successfully disrupted attack planning in the past, further attacks are expected. Terrorist groups, who have claimed responsibility for a number of attacks, have shown the intent to conduct further attacks, including in areas frequented by foreigners. While most recent terrorist attacks in Turkey have targeted Turkish government institutions and security forces, attacks have occurred in tourist areas and locations frequented by foreigners, resulting in deaths and injuries.


New Zealanders throughout Turkey are advised to remain alert and keep themselves informed of potential risks to safety and security by monitoring the media and other local information sources. We recommend following any instructions issued by the local authorities and exercising a high degree of vigilance in public places, especially around government buildings and sites associated with Turkish security forces. Be security conscious around landmarks and places known to be frequented by foreigners, such as embassies, tourist locations, shopping malls, entertainment areas, public transport facilities, airports, places of worship and identifiably western businesses.

Safetravel.govt.nz

Perhaps it might be time for Ardern to stop virtue-signalling her newfound Islamification to the world and start trying to protect her own people?
I guess my upcoming planned day trip from Greece over to the Turkish coast might not be such a good idea. I certainly won't be able to fit a coffin in my backpack, so how will President Erdogan send me home?
Or maybe you get a free coffin when you cross the border?
ExPFC, ex lots of things. Husband to a great woman. Father to great kids. Traveller, teller of tall tales, wannabe capitalist property magnate. I'm a passionate user of fossil fuels, a proud Kiwi, Ford over Holden, Indy over F1, V8's over everything else.
To read my previous articles click on my name in blue.